February19-21, 2009 the team of the Center held second "Practices of Biblical Entrepreneurship" seminar in Tiraspol, Transdnistria. There were 30 people at the training. People told us that they liked the seminar very much, they got may practical advices and it made them to overview their business.
After the seminar 10 people told of their desire to become teachers of BE. For that reason the team of the Center held teacher certification training for those people.
In order to invite more people for English and computer lessons we gave adds to local news papers and TV channel. As the result that we had 60 children came in but 49 students are coming for the classes every week. We divided them into 4 age groups. The studies are 4 times a week and every group has opportunity to study both English and computer 2 times a week. The study goes parallel in two groups, when first does English the other one take computers and then they changes.
For this program we have a group of volunteers in our Center. For English we have two professional teachers of English, a girl that finishing a last year at pedagogical university and also a volunteer from USA, who is working with "Peace Core" organization.
As well as regular studies we are trying to organize feast celebration for the children. As for example to Easter we had an opportunity to show them movie about Jesus Christ. It impressed children very much. After the movie we had a little discussion and gave answers to question that children had for us. Afterwards we gave them presents, which were provided to us by CBN, Kyiv.
In conducting the Easter holidays activities our partner and mentor Natalia Homyak from "OperationBlessing", CBN and her team joined us. Together we had an opportunity to visit children in the orphanage and give them presents that also was provided to us by CBN, Kyiv.
In the end of March (26 till 1st of April of 2009) Director of the "Success" Center and one of the BE teachers went to Moldova. There they got together with pastor Vitaliy from Tiraspol and together with them went to other cities of Moldova. They were able to visit several major cities of Moldova and present the work of the Center and training programs that Center uses for businessmen and pastors of Moldova.
Every meeting that they had been very inspiring, and all of the people were motivated to come for the BE 1 seminar that is going to be in Kiev in the beginning of June. We expect to see 5-6 people form Moldova there. All of the thing that they will hear there will motivate them to prepare ground that we will be able to conduct seminar in the future. In the nearest time on the Moldavian Pastors meeting they will talk about having BE in their churches.
From April 24 till May 4, 2009 of director of the Center visited Bulgaria with presentation of BE, La Red and the work of the Center. Two weeks before that pastor Vitaliy from Tiraspol went to Bulgaria to prepare everything before Ivan came. Every meeting was on high level. We were able to present BE and La Red.
We're able to talk with translators and they took the materials to translate it into Bulgarian language.
In two local churches pastors took La Red program as year program for sermons in the Sunday church services and also they will use the same program fro home groups to discuss it. We were able to motivate business people and pastors that they would come to the BE 1 seminar in June to Kiyv that is going to be taught by the author of the program, Patrice Tsague. We, as well, expecting to see 5-6 people there.
May 14th 5 people from Ternopil want to Tiraspol to have BE 3 in Tiraspol. Seminar was 15-16 of May. Everything was great we had 24 people that came for the seminar. All of them were able to hear the theoretically and practically how to write business plan.
In the end of the second day 3 members of the team presented their business plans that they presented in December in Ternopil. They were motivated to write their business plans. In the end of the seminar 21 people told that they are going to write business plans, and will present them in July on Business Plan Competition.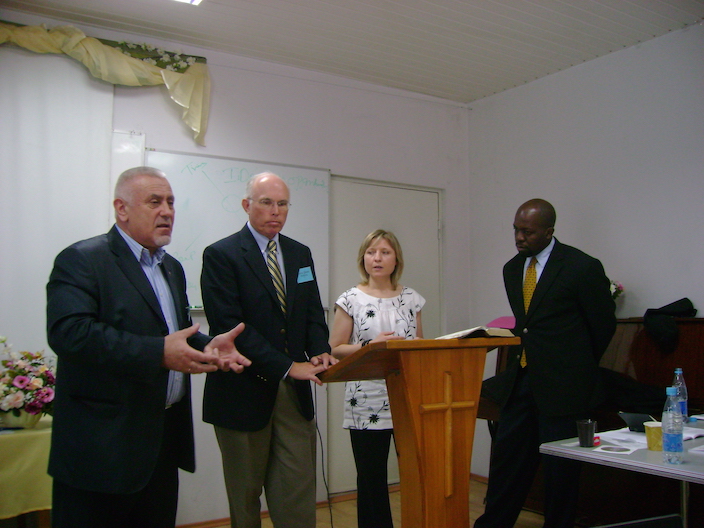 4th through 8th of June 2009 we had "Principles of Biblical Entrepreneurship" (BE I) seminar in Kiev. The teacher of the seminar was the director of the Nehemiah Project International Ministries and author of the Certified Training Program Biblical Entrepreneurship Patrice Tsague (USA).
Dr. John Mulford, the director of Regent Center for Entrepreneurship (USA), came together with Patrice and he were the initiator of this seminar in Ukraine. In his speech he told about global Christian movement in the market place and especially about the importance of spreading the Kingdom of God in the earth through it.
The organizers of the seminar were Ivan Papish (Christian Center for Entrepreneurship Development "Success"), Victor Zaluzhniy (Christian Business Fellowship), Tim Judy (International Mission Board) andVictor Grigorenko (Kiev, Christian University).
There were people from deferent cities of Ukraine: Kiev, Ternopil, Odessa, Vishgorod, Slavyansk, Berdyansk, Poltava, and also from Tiraspol (TrendnistrianMoldavian Republic) and Varna (Bulgaria). In general we had 32 students.
19 people showed their desire to become certified teachers of BE . During 7, 8th of June Patrice shared with us the best practices of BE Teacher, how to become teacher of BE, and shared the history of Nehemiah Project.
November 19-21, 2009 Center held "Principles of Biblical Entrepreneurship" seminar in Ternopil, Ukraine.
We had 33 people came to seminar, among theme there were 5 people that came from other cities of Ukraine (Lviv and Lutsk). Chapter was shared between 7 Certified by Patrice Tsague teachers.
Here are peoples feedback:
Lisak Natalia, business lady: «Thank you for the seminar. It is BOMB»
Bachinska Irina, beauty consultant: «Thank you very much for the seminar. I wish to attend more seminar like that»
Garko Mikola, interpreter: «Amazing and I have received many blessings»
Bobik Maria, Student: «I thank God and you. I have received a lot from seminar. Praise the Lord».
Matsyuk Petro, businessman: «This is something that changed me view on business and life»
December 3-9, 2009 Director of the Center Ivan Papish and interpreter of the Center Ievgenii Chekushkin were able to be a part of Christian Geneva Leadership Forum in Switzerland.
On the Forum there were 150 people from 20 countries of the World, mostly from Europe.
We were able to hear the history of reformation that took place in Switzerland in XV century and took Switzerland to the position that we know it nowadays.
Those changes came because of person who's name was Jean Calvin, which was trying to build the biblical, spiritual foundation for community. He saw the importance that not only church would be reformed but also all other spheres of society: education, culture, government, business, family and etc. The Word of God is the foundation to all of that.
The main subject of the Forum was – "from reformation to transformation" the ways how Christina people can change others in all of the spheres of society.
In time of the Forum there were breakout sessions where there was discussed the subjects of all of those seven spheres of society. We were part of the business session.
We were able to share about what Bible speak about business, how the business should looks like, what is the main goal of the business to be successful developed in economy in the country and world. Our understanding and interpretation influenced everyone in a positive way and it showed the new view on business, business as ministry. This is the biblical view on business.
In time of the Forum we were able to meet with many different people and were able to share the vision of the Center, exchanged information and talked about the future cooperation.
After the end of the Forum we were able to meet with some business people that are building or planning to build their businesses based on the principles of the Word of God. On those meeting we shared about the work of our Center and about the programs that we use to teach people. All of them shared that this kind of training are in need in Switzerland. We made a good connection with them and we fill that God is opening new opportunities and new doors for us to spread the biblical truth.
December 4-5, 2009 we had training-seminar in our Center, for the people that are working or have desire to work with young people. The teachers of the seminar were Galina Sheifer and Mina Podgaiska from Kyiv "Mercy association "Emmanuel".
In the seminar also we had Tumchshin Vasilina Ivaninvna who is the head of the government department for trusteeship, care and adoption at Government Service of child care in Ternopil city council.
The main goal of the seminar "The lessons of independency for youth" were to prepare leaders that they were able to pass on the main life skills to childrenand youth and to prepare them to become leaders in our society.
The teachers presented the program of ten modules: personality, communication skills, health and hygiene, love and sex, the gist of the marriage life, teaching children, housekeeping, how to manage time and money in a right way, work skills and rights and law. This programe is developed to have 48 lessons and the goal is to serve young people in orphanages, public school and other educational institutes.
There were 27 people present in the seminar – representatives of 9 churches and 2 public nonprofit organizations in Ternopil region.
In time of the trainings and practical tasks all of the students were able to share their experience of working with young people, how to find practical decisions that they need to make in time of working with youth.
December 19, 2009 we held the Biblical Principles of financial management "Bible about finances" seminar in our Center. To teach that seminar we have invited a director of Ukrainian representative of "Crown Financial Ministry". It is one of our partnering organizations.
There was 32 people at the seminar. They were able to hear about right and Biblical view of financial management. After the end of the seminar all of the people told that their view of those questions has been changed completely.