THE NEW SCHOOL YEAR AT CHRISTIAN CENTER SUCCESS HAS BEGUN!
The grand opening of the new school year took place on September 3ed of 2019. Children, parents and caregivers were looking forward to that day because for most of them the lessons at the Center is a true value.
The classrooms are waiting for children who will be gaining new knowledges and skills. Teachers and volunteers are ready to serve children this year by showing them love of God and care. They have a true desire to help kinds to unfold their skills not only through English but also teaching them practical skills for life according to Biblical Principles.
More than 200 children will be coming to the lessons of English, Life Skills and meetings of the Superbook, Greatest adventure and Life in our hands in 2019-2020 school years.
We wish children God's blessings in their studies and parents and caregivers to have endurance and mutual understanding for the success of our common cause!
CHILDREN'S CAMP "LISOVYI"
Center "Success" team worked during July and August 2019 at social children's camp "Lisovyi" (village Skomorokhy, Ternopil region). Every summer since 2011 camp ministry is the unique opportunity to influence on children and teenagers from large and needy families who are in hard living conditions. Also we work with orphans and children who belong to risk group.
Trainings and lessons on program "Lessons of self-determination for youth" and "Revival" are the basic part of our work in camp. Dwelling on topics "My life values", "Character formation", "How to get on well with parents", "Premarital relationships" we tried to show to the teenagers alternative, biblical view of understanding yourself and others. These topics were actual and necessary for the majority of teens. "Nobody talked with us about this before", that was the most frequent reaction of children after the lessons.
Trainings, lessons, quests, interactive games for teambuilding, cartoon "Superbook" and watching educating films – using these methods we tried to open children's hearts, their thinking changed and our relations became friendlier.
Very often behind the mask of rejection and pretended atheism, we could see injured children's souls which need parental love, support and understanding. Speaking with children about biblical methods of life, workers of the Center always showed truthful meaning of Gospel of Jesus Christ , giving the children God's love.
Seeing the sincerity and responsibility of our team, teens started to open their hearts talking about their family problems, their own lives, about the reasons of their worries, fears and uncertainty. Due to individual counseling, studying and prayers the children received the answers to their questions and hope  that  with God's help they could cope with different challenges. 
Here are some of the children's responses:
"Thank you for the informative trainings, you know how to inspire people. I made the decision to appreciate everything I have, help others, fight my fears. In the future, I want to make the same speeches in hospitals and orphanages so that children understand that everything will work out okay, they just need to believe!"
(Stepanova Dasha, Poltava)
"I liked your interesting and creative games, important topics which were explained in the available language. I made the decision to establish relationship with my mother and learn to resolve conflicts constructively"
(Moroz Yaroslava, Ternopil)
"Personally for me, the most interesting training was the training on parent-child relationships. When I get home, I will definitely talk to my parents and we will try to spend more time together"
(Gaydamashko Maria, Shumsk)
"I realized that we have little time, and we always need to value our parents, pay attention to them, and appreciate meeting with them more than meeting our friends. I do not need to seek only physical contact with girls, I do not need to seek pleasure from many girls, and it is better not to rush, but wait for the one, the best. I became more aware of this"
(Horoshynskyi Artem, Poltava)
"First of all, I would like to thank you for the support you have given me during personal conversation with you, as well as for the trainings, that have changed my worldview and communication with loved ones. I realized that you should not be afraid to say what you think and feel"
(Yashchuk Tanya, Buchach)
"Thank you for valuable information that will come in handy for me in both material and moral aspects of life. Thanks for your time and attention spent on us. You are making us to think over our life principles and change them for better, and this is the best thing you can receive during training."
(Oleksiyenko Sofia, Ternopil).
We are grateful to God for the opportunity to serve children and adolescents and believe that the seeds, that were sown in the hearts of the children, will bear good fruit for their future life with God!
DAY CAMPS CALLED "IS GOD'S CHOICE – MY CHOICE?"
The team of the Center have held two day camps called "Is God's choice – my choice?" in Ternopil for children that come to the lessons at the Center in June 11th through 15th and in Kremenents for children from large, low-income families in June 18th through 22.
That kids were able to be active in games and quests, and at the Bible lessons and the Superbook cartoons they were able to hear about God's will for their lives. Children receives cheerfully the good news of Jesus Christ and in prayer would trust their lives to God. Parents are truly thankful to the team as they see positive change.
A NATIONAL BUSINESS PLAN COMPETITION
There was held a national business plan competition among the participants of Business by the Bible seminar in Ternopil on June 11th. 6 participants from various cities have presented their plans. The winner of the competition is Tetiana Vasenda with the business plan "ART-HOUSE the opening of the art studio". Tetiana have won the opportunity to present her plan at the International Business Plan Competition during Nehemiah Week 2019 in Washington, DC.
Here is what Tetiana said after the competition:
"All glory belongs of our Lord! Because he is my only victory! Four month of intense preparations and lots of efforts and today I have a first place at the Ukrainian National Business Plan competition which is built on the principles of the Bible in Success Center".
The principles of Biblical Entrepreneurship bring changes into the lives of people that came to the seminar. And the business plan competition is a good start for the business for the glory of God and positive impact over the people around.
The DadCamp which took place in Success Center in May of 2019 became a unique time of bonding between fathers and children.
The overall goal of the camp was to help every man to become stronger father, to build stronger families. 
More than 80 dads participated in a DadCamp. All of them came with their son or daughter. Starting with the first moments of the camp all the participants were intrigued, since it is the first time something is happening in the Center in such format, when there is a father and a child.
"It is time to change the history! We believe in the world where every family has a great Dad! Our mission is to build stronger fathers who build stronger families around the globe. We believe there is no better way to restore our world to the way God intended then by reaching and restoring the hearts of men" – those were the words to all of the participants of the founder and director if international organization DadCamp, Jason Braun. Jason and his three other team mates from USA held a camp.
Those were deep and insightful talks with dads, interesting and fun games for children, one on one time with father and a child and creation of gifts to one another – all that created some strong memories of the DadCamp.
Here are some the father's feedbacks.
Rohachuk Oleg
"It was truly a great time which will affect the lives of my family! Everything was simple but at the same time to the point, especially that "father cannot be replaced". I've decided to start joined prayers with my children for their needs. Thank you for everything! Wish you all the strengths and zeal to continue!"
Honskiy Roman
"Thank you for meaningful information, which helped me to open my eyes to the problems of father and child. After the seminar I will make a closer look on my mistakes. To all of the organizers I wish good health, inspiration in their hard work"
Kurdybaha Pavlo
"I liked it very much. May the Lord bless you! I make a decision to talk more with my kids, to pray with them and to read Bible."
Simchuk Volodymyr
"I was very surprised about the meeting and the topics that was talked about in the lectures of the DadCamp. I am sure that we need to meet and talk about those problems more and then find way to resolve them together. I want to cry because of happiness when I see you work so spiritually in the DadCamp! May the Lord bless you and give you more strengths!"
Supinskiy Taras
"I've liked the format of the meeting and the materials, that was given to us the team of teachers. The seminar helped me to see leadership in the family in a new way and it helped me to write a vision for my family"
Dmytryk Maxim
"Thank you very much for the great time spent with you and with my children. Everything went awesome. I liked open and sincere training, conversations and time together. I've made a decision to continue to change, become a better father and start a movement of the fatherhood in my region and to become encouragement for my children and a better husband for my wife."
Sereda Dmitry
"It was a truly an awesome time with my children. The team was very good and professional and they helped me to make a decision to get to know my children better and become closer to them. I thank God for your work."
Tsebak Volodymyr
"Everything was so cool! I will everything the me and my son would understand each other better"
Kulich Andrii
"I was able to see in myself what I have not seen before as a father. Thankful to God and the team of the organizers and speakers from America"
Vadnyk Oleksandr
"Thank you for your great work. I very liked your training. I think after today I will change my attitude to my family and children!"
Prohyra Rostyslav
"Thank you very much for DadCamp. It was so impressive. I liked that I was able to make a gift to my child with my own hands. I am ready to participate, learn and change myself and change world around me. I am ready to help of you need me to."
We truly thank God for the opportunity to influence parents and help them to build strong families for the Glory of God.
«Christ is risen!» " He is risen indeed!"  that was the greeting which sounded in the classrooms of the Ternopil Training Center in April of 2019. All of the age groups had their time of Easter celebration at the Center. The parents and caregivers gladly received a good news about the Resurrection of Jesus Christ from their children as they were singing and performing in dramas in English. By the end of the celebration all of the children received gifts.
Here is some of the feedbacks of the guests of the celebration:
"Thank you for the celebration it was a great time and wonderful gifts" (Oksana Didushyn, mother)
"Thank you very much for creative and interesting lessons and celebration! Kids always run to the class!" (Oleksandr Maksimov, father)
We truly thank God for unique opportunity to serve children and adults! May Christ Rise in our hearts!
THE STORY OF THE DEVELOPMENT OF ANDRII SOLODOVNYK BUSINESS. ANDRII IS THE WINNER OF THE INTERNATIONAL BUSINESS PLAN COMPETITION OF BIBLICAL ENTREPRENEURSHIP COURSE IN 2018.
After graduating school Andrii have studied carving in college. After graduating college, he got married and started to work at a door factory. There he worked for year and a half and was able to see deficiency in production, the bad addition of the employer towards employees which led to bad quality of work. Later he started working on making wooden iconostasis which led him to learn more and become more creative. While he was working there the Lord showed him that is was Him who gave Andrii the talent and a desire to create. Andrii's wife had an experience working with children development reminded him about a dream that he had – to make a production of wooden development toys. The bad experience which Andrii had along with the desire to implement his dream led him to start his own business. Together with his wife he moved to a small city where he was born named Zbarazh with personal savings of $100 USD. There in his garage he has started to produce small and simple toys and Christmas decorations mad of wood.
Andrii came to Biblical Entrepreneurship seminar for the first time in 2015. The information that he has heard helped him to change his view of business and helped him to develop his business according to Biblical principles. The seminar helped him to make more practical steps to develop more products. He has sated to sell his product through internet and hired new employees.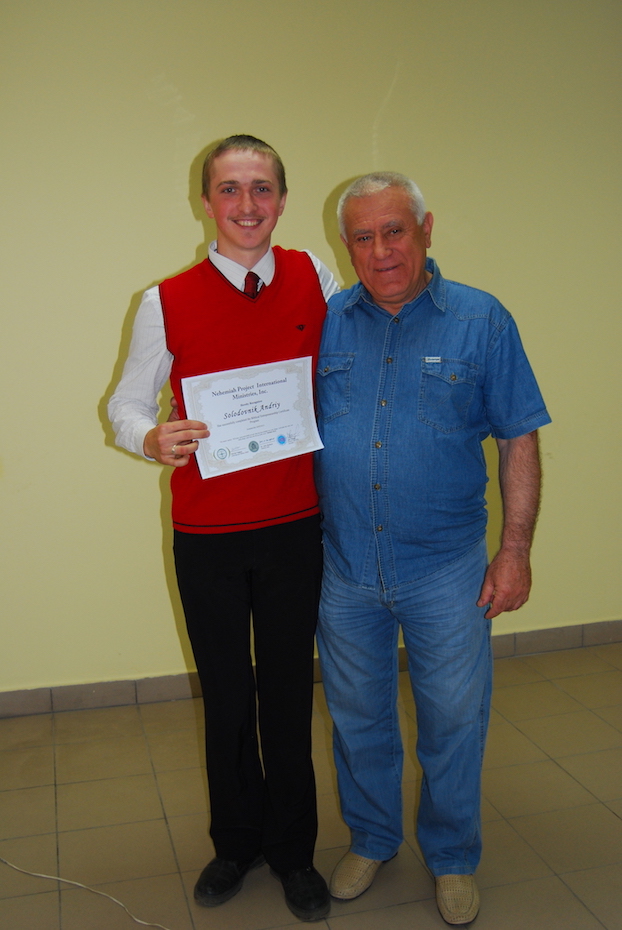 In 2017 he decided to take seminar one more time to write business plan about development and expansion of his business. He has presented his business plan on Ukrainian national business plan competition in November of 2017 and became the 1st place winner. As a result, he was invited to present his business plan on the international business plan competition in 2018 in Orlando, Florida, USA. In September of 2018 Andrii have presented his plan on International competition where he took the first place. In his presentation he has showed the activity of his business at that point and showed his projections for the end of the year and specially for the winter period, the most profitable period for his business. In such way he has projected certain amount of profit by the end of the year. The purpose of the plan was business development using the bank credit from Ukrainian bank for 2 years under 19% annually. He wanted to use those monies to hire two new employees and to buy new equipment.
After Andrii returned home he has started actively implement his business plan to live. As it was written in his plan the winter period was the most profitable. However, if Andrii has made calculations about his estimated profit the actual profit for a lot more than he expected, which excited Andriis expectations. Since the sales was so big, Andrii realized that now he does not the bank credit under such big interest rate. He made enough money to not use credit. Andrii have already purchased needed equipment and now looking for new bigger facility for expansion of his business and to hire new employees. Andrii is continuing to conduct lessons for orphans, half orphans, children from large or low-income families.
Talking to Andrii he expressed his sincere gratitude to the team of the Center for investing in him right biblical perspective of the business. Only because of knowledge that he has received and because the decisions he made he was able to achieve such results.
Recently we have conducted Biblical Entrepreneurship, Planning seminar for 30 people and we invited Andrii to present his business plan. As we have talked about his business plan people were even more motivated to write their business-plans.  
TO VISIT ANDRII AND OKSANA WEB STORE YOU PRESS THE PICTURE BELOW:
Practical training course Successful Entrepreneurship
which is based on the Biblical Principles
Practical training course Successful Entrepreneurship which is based on the Biblical Principles was held in Ternopil Success Center on February 14-16 of 2019. Certified teachers Ivan Papish, Yuriy Mamus and Oleg Karpyk has taught the course for 13 people who are both new in business and also people that have businesses and looking into expending it.
This time we have changed the format of the seminar and prepared even more practical tools and exercises and teachers gave more attention on writing the presentational business plan.
We also have invited a special guest – Andrii Solodovnyk the winner of the International Business Plan Competition in 2018. He used his business plan to share on practical tools about business plan and how to develop and present it. Andrii have shared principles that he used as he was writing his plan and shared what helped him to take the first place on the competition in the USA.
The participants learned that in order to achieve success you need to build your business using the eternal Biblical Principles. And when they will receive needed skills and knowledge they will be able to start a business and lead successful business in spite of difficult situation in the country!
Everyone who will complete his or her business plan will be able to present it on Ukrainian National Business Plan competition which will take place on May 25thof 2019 in Ternopil. And the winner of that competition will be representing Ukraine on International Business Plan competition in Washington, DC in August of 2019.
We wish success to all of the competitors and believe that through their entrepreneurship activity the need of the customers will be satisfied and God will be glorified!