30-ИЙ ДЕНЬ ВІЙНИ. РОБОТА КОМАНДИ ЦЕНТРУ «УСПІХ»
У зв'язку з тим, що 24 лютого 2022 року Росія віроломно напала на Україну, Християнський навчальний Центр «Успіх» було терміново переобладнано для того, щоб приймати переселенців з інших регіонів України. Спільними зусиллями команди працівників та волонтерів Центру, батьків дітей, які навчаються в Центрі, за фінансової підтримки наших спонсорів та друзів, в перші ж дні війни ми обладнали 3 класи. Там ми змогли приймати більше, ніж 30 людей на ночівлю. З часом ми змогли збільшити кількість класів до 4, а кількість ліжок до 45. А згодом ми змогли б прийняти на ніч одночасно до 70 людей
Станом на 10 березня 2022 року (15-ий день захисту України від повномасштабного вторгнення Росії) величезна кількість українців зі східних та центральних регіонів евакуйовувалися на Західну Україну та в країни Євросоюзу. Відповідаючи на цю потребу,  команда Центру «Успіх», яка була задіяна в служіння цілодобово, змогла надати безпечне місця багатьом сім'ям переселенців. Кожної ночі ми приймали 50-60 людей – сім'ї з дітьми та літніми людьми, які приїжджали в Тернопіль власними автомобілями або поїздами. В нас люди відпочивали з дороги, зігрівалися, могли поїсти та переночувати, і продовжити свою мандрівку далі.
Ми створили максимально комфортні умови для наших гостей:
– їдальня зі свіжою гарячою їжею,
– теплі ліжка для доброго відпочинку вночі,
– дві душові кабіни з гарячою водою, щоб добре помитися,
– дві пральні та одна сушильна машинки, щоб випрати одяг та постіль з ліжок для гігієни,
– два масажні ліжка для відновлення після тривалих мандрівок,
– послуги професійного масажиста, для зняття стресу,
– консультації психологів та душоопікунів.
Особливу увагу ми приділяємо особистим розмовам з гостями про важливість надії на Бога, молимося з ними про прощення гріхів та Боже благословення для їхнього майбутнього.
Від початку війни в Центі «Успіх» ми прийняли більше, ніж 550 людей.
Ми будемо служити і мешканцям нашого рідного міста. Тому вже зараз підготували склад для гуманітарної допомоги розміром 80 м.кв.
Ми щиро дякуємо всім, хто підтримали нас матрацами, ковдрами, продуктами харчування, засобами особистої гігієни та всім необхідним. Хай Господь рясно вас всіх благословить! Це наша спільна допомога нашим українським людям! Ми віримо Богові, що перемога буде за нами! Дякуємо всім вам за молитву за підтримку! Хай буде прославлений Бог через нашу спільну діяльність і служіння людям.
Також ми відновили підтримку та навчання для дітей та підлітків, які навчалися в Центрі до початку війни! В березні 2022 року навчання для дітей в основному здійснювалося в дистанційному режимі. Ми продовжуємо проводити онлайн-зустрічі для дітей та підлітків: уроки англійської мови, «Уроки самостійності для молоді», заняття «Найвеличніша подорож», зустрічі «Суперкнига». Для цього ми використовуємо наступні web-програми: Messenger, Viber, Zoom, Google Classroom, Padlet та інші.
Таким чином ми продовжуємо підтримувати добрі стосунки з нашими вихованцями, проявляючи до них увагу, піклування та даруючи Божу любов та спокій в цій нелегкій ситуації для всього світу.
THE TEAM OF THE CENTER "SUCCESS" SINCERELY WISHES YOU A MERRY CHRISTMAS AND A HAPPY NEW YEAR!
We are truly thankful to God for the successful ministry to children and adults in 2021!
Over the course of the year, we conducted daily lessons and classes for students of the Center on the courses "English lessons", "Life skill lessons for young people", "Superbook", "The greatest adventure" and "Life in our hands."
We helped the members of the Successful Youth Club form a strong character and begin to manage their finances according to Biblical principles.
We had many personal consultations on family relationships and business, and hundreds of participants were able to take tests and consultations on the Career Direct career guidance program.
The summer months were full of events that had a special impact on the lives of hundreds of teenagers and adults in the weekly children's day camp activities and in during the "Dad Camp".
Dozens of lessons and classes were held in the city's secondary schools. And through cooperation with the city authorities, social projects that change lives have been organized.
We end 2021 with a Christmas celebration of the birth of our Lord Jesus Christ.
Thank you very much for your boundless contribution, support and prayers! Changing the lives of children and adults through the service of the Success Center is our common fruit for the Kingdom of God!
Merry Christmas and Happy New Year!
"Being tolerant is not enough! Doing good to people is the real challenge of today!"
November 15-19 of 2021 the staff of the Success Center addressed this message to high school students of Ternopil Ukrainian Gymnasium named after I. Franko as part of the "Week of Tolerance".
The team of the Center conducted six classes for 139 students in the gymnasium. Adolescents were tested to determine their personality type to better understand themselves and those around them.
During the discussions, participants realized the importance of not only showing respect and tolerance to other people, but also looking for opportunities to do good deeds for them.
The students listened carefully to the teachers' explanations of the biblical principle of "Sowing and Harvest" and learned the "Golden Rule" well: "Do to others what you want them to do to you."
We believe that with God's help, teenagers will grow up wanting to bring joy to those around them by doing good deeds!
OBJECTIVE CREATIVITY PHOTO QUEST FOR SCHOOLS OF THE CITY
On September 23, 2021 in Ternopil the team of the Christian Training Center "Success" together with the City Student Parliament "Nasnaga" and with the support of the "Center for Children and Youth" held a photoquest "Objective Creativity 2021". 96 students from 16 secondary schools of the city took part in the event. They had a difficult task – to take team photos according to 10 creative tasks within a limited time. All teams performed the task "excellently", and some impressed the organizers with their creativity and unusualness.
On September 28, the winners of Photoquest were awarded at the Success Center. Creativity, geographical location of photos and teamwork were evaluated. The teams received diplomas for participation and victory in some nominations, sweets, office supplies. We thank Tatiana Chubak and the Podolyany Charitable Foundation for the main prizes for the winning teams – bowling and skating rink subscriptions at the Podolyany shopping mall.
Congratulations to the team of School №27 with the victory in Photoquest!
MINISTRY TO KIDS AND ADOLESCENTS DURING SUMMER
During July and August of 2021, the work of the Success Center team was mostly held in summer recreational camp "Lisoviy" which is located in Ternopil region, Western Ukraine. Every summer for the last 10 years we are serving in this camp and conducting various events for 400-500 kids. This year we were able to held following events:
Life skills lessons for older kids and adolescents. During lessons children and youth gained needed and practical skills for independent life. They also learn about biblical principles for good relationships with their pears and parents, they also form good character. The lessons were filled with different team tasks and interactive games.

For younger kids there were held lessons from The Greatest Adventure and Superbook curriculums. At these lessons looking into the Bible children learn about Gospel and Gods plan for their life.

We also held games for the entire camp, quests, competitions. We've also showed educational cartoons and movies to create the atmosphere of friendship, acceptance and care for one another.
Here are some of the feedbacks from adolescents:
"The game "Instinct of self-preservation" became a discovery for me. Apparently because of this game all the groups became friendlier and really opened up. To be honest, I liked all of the trainings. But the topics about Nick Vujicic and his parents were the most interesting for me. After these trainings, I decided to forgive, and so far there have been very strong problems with this for me. I want to thank you very much. You are all amazing, incredible and good people. We will never forget you! " (Derekh Veronika, Berezhany, Ternopil region)" 
"I liked all the topics of the trainings. Each of these topics provided many things for reevaluation. Indeed, although it is impossible to understand everything at once, but true-life stories gave impetus to certain actions. The greatest and most important of the discoveries was that after the forgiveness of a certain person it becomes easier on the soul. That's why I decided to forgive my father. Thank you! The games you played helped a lot to communicate better with people in my group "(Victoria Bachynska)"
"I liked the games that we've played with Ruslan and Yuriy. The "instinct of self-preservation" helped the children to unite and to have active and fun time. And in general, all the kids that participated liked this game so much. Natalia's trainings were very interesting. The boys and girls actively discussed the topics raised by the psychologist. I think she had a positive effect on the children, helped them to think and change something in their lives for the better. Photo-quest was interesting, because the children showed their imagination and creativity, united and showed a great result. This event helped them believe in themselves. We look forward to seeing you next year "(Polyak Alla)
"Dear team of the Success Center!" Thank you for all the time that we spent together. I really liked the games and competitions you organized for us. Also during the trainings, I realized certain things that helped me a little to cope with some problems. In addition, I want to thank you for all the moments you gave us, by the way, thanks to one game, I reconciled with a friend! In general, thank you for your work! I wish you to move only forward and continue the work of life! " (Sofia Denisyuk)
"I really liked the heart-to-heart conversations, there were cool games and movies. I was very impressed by the story of one of the teachers about his father, as I had a similar situation. It's great that you were able to tell others and give us moral strength. You gave me the strength to forgive my mother. I wish you good luck in your profession!" (Tsilinskaya Anastasia)
As part of the beginning of the new school year, the Success Center held an organizational parent meeting for parents and guardians of students who attend classes at the Center. At these meetings, participants got acquainted with the curriculum, rules and schedule of the center.
There were also festive ceremonial meetings with all students who will study with us this year! All children with inspiration and perseverance begin to gain knowledges, shape their character and reach new heights in their lives!
We wish God's blessings to all children and adults! Thank God for the opportunity to serve them! We are grateful to all who pray and support us in our joint activities for the glory of God!
June 7-11, the Success Center hosted a week-long children's day-camp called  "IZI to be yourself" for middle and senior age groups of students of the Center. 48 children attended an event. The main message was "Understand your uniqueness in God and help others to be unique."
Then June 29 though July another children's day-camp called "Number One" was held for junior students of our Center. Children have learned to give priority in all areas of their lives to the One who is worthy of it, Jesus Christ. Through Bible lessons, games, and quests, the Center's teachers showed participants the importance of subordinating their lives to Heavenly Father. The highlight of the camp was a day spent on the tennis courts "Central Park" in Ternopil, where most children for the first time in their lives tried themselves in a game of tennis and got a lot of positive emotions.
We are trully thankful God for the opportunity show His love for children and teens
. We believe that the good seed of the Word of God, which was planted in children's hearts will bring a great fruit in their adult life!
June 17
–
19, 2021, the Dad's Camp was held 
in Ternopil. 
It 
was attended by 40 
dads 
and 40 children. The main speakers in the camp were representatives of the 
"
DadCamp
" 
international organization. Through training for dads and interactive games for children, they  
learned 
important principles of passing God's inheritance from dads to children. 
We were able to see t
he extraordinary result
s 
in the change of attitudes 
of dads. T
he positive feedback
s 
of the participants inspiring
 us 
to hold similar events in the future
.
Here are some of the feedbacks from dads:
       "I sincerely thank the administration of the Success Center for organizing this spiritual event called "Dad Camp". Thank you for being a witness for Jesus Christ. May the Lord bless you with all His graces "(Shengera Taras)
       "I thank God and the ministers who made this contribution into our lives. The positive attitude  of the ministers was overwhelming. As a father, I am learning to love God above all in order to pass on a blessed inheritance to my child "(Krupka Vitaliy)
       "Dad-camp is valuable information that helps to solve difficult problems in the relationship between father and son" (Mochar Ovid)
       "Thank you for revealing to me the important role of a father in the life of my family, and especially my children. Maybe there weren't some extraordinary emotions, because we are men. That's why we decided to be real dads for our children! " (Vityuk Andrey)
        "I was struck by the touching story of Ivan Papish. Invaluable time spent with my child, it was a time for learning and positive experiences. Unique emotions. This is a very important and necessary project. I love you and may God protect you "(Prokhira Rostislav)
        "God himself brought me here and gave me the opportunity to "stop time" to understand how important it is to spend time with my children and take an interest in their lives. Rethinking that there is something to change in relationships to the family "(Andriy Solodovnyk)
One week before Easter, the students of the Christian Training Center "Success" had the opportunity to move to the time of Jesus Christ and experience the events of suffering and the joyful resurrection of our Savior. Сhildren understood the true meaning of Easter and through recitations and songs told about a greatest event for all mankind – Salvation from sins.
We truly thank God for the opportunity to serve children and adolescents! May the resurrection of Christ revive each of us to a new life for the glory of God!
THE FIRST LESSON OF THE "GREATEST JOURNEY"
In February 2021, the first lesson of the "Greatest Journey" lessons took place in Ternopil Training Center.
The topic of the lesson was "Being in a close relationship with Jesus".
More than 30 children learned how to build the good relationships with their siblings and parents. Teachers helped children to understand how important it is to have good relationships at home, to help with everything around the house to take the initiative and be responsible.
Children were excited about the idea that through building strong relationships with Jesus Christ they are also building better relationships with parents, friends and teachers.
THE FIRST MEETING OF THE SUCCESSFUL YOUTH CLUB
The team of the Center also held the first meeting of the Successful Youth Club meeting in this semester. Adolescents were excited about the opportunity to take 10-week course on Biblical Principles for Financial management.
This course raises up the following questions: God's responsibility and ours; Debts; Taking advices; Giving; To study and to work; Savings; Friends and so on.
This course will teach them to make personal and family budget, will provide some ideas of personal savings, will give them a chance to create a weekly spending plan and make an income and expenses summery for the month. We will also teach them how to write personal resume for employment, how to set financial goals and many other.
THE NEW YEAR AND CHRISTMAS CELEBRATION MEETINGS
"Christ is born!", "Let us glorify Him!"
In compliance with the quarantine requirements, the New Year and Christmas celebration meetings for various age groups of students were held in the premises of the Center in December 2020 and January 2021. "Christ is born!", "Let us glorify Him!" We've remembered and told each other the Christmas story in poems, songs and plays. High school students tried themselves in the role of hosts of the holiday, and preschoolers and elementary schoolchildren reacted with enthusiasm to unexpected theatrical scenes from the Center's team. At the end of the holiday meetings, all students received gifts.
We truly thank all those who pray and support our ministry! You are helping our team share the Good News of the Savior Jesus Christ with children and adults!
"Christ is born!", "Let us glorify Him!"
THE "CAREER DIRECT" VOCATIONAL GUIDANCE PROGRAM
For several years, the "Career Direct" vocational guidance program has been a great tool for the Success Center team in helping teens and adults choose an educational institution or professional environment for further growth.
Twenty high school students, who come to our Center, took the Career Direct Test online on the website, where each participant answered more than 500 questions in four sections: "Personal Characteristics", "Interests", "Skills and Abilities" and " Values".
On November 12, 2020, the Center hosted a consultation for these adolescents. At the meeting, the certified consultants of the program presented to the participants their vocational guidance test results, which is 38 page long personal report. It explains in detail the important aspects of the test results. Adolescents actively participated in the tasks while working on their reports and were excited about the results. Each participant gained needed skills to work with the results and was able to compare their personal portrait of professional qualities with the Letter of Evaluation of the chosen profession.
We are grateful to God for the opportunity to help teenagers choose the appropriate occupation and prepare well for professional life.
More information about CareerDirect program you can learn on our website following the link: https://center-uspikh.com.ua/en/vocation-guidance/
On November 5, 2020, the teachers of the Center "Success" at the invitation of the leadership of the one of the local schools of Ternopil in compliance with the requirements of quarantine conducted a series of classes for 40 students from 8th and 9th grades on the topic of "Personality. Creativity. Success". Lessons were held as part of the Week of socio-psychological adaptation of adolescents to independent living.
In an interactive form, we looked at the connection between a one's personal characteristics, positive and negative traits of his or her character and achieving real success, as a person's approach to its maximum potential in various spheres of life. 
The students enthusiastically accepted that the character and personal success is formed by the following principle: "You sow thought, you reap action. You sow action, you reap habit. Our habits shape our character. And a person's character determines what his whole life will be like."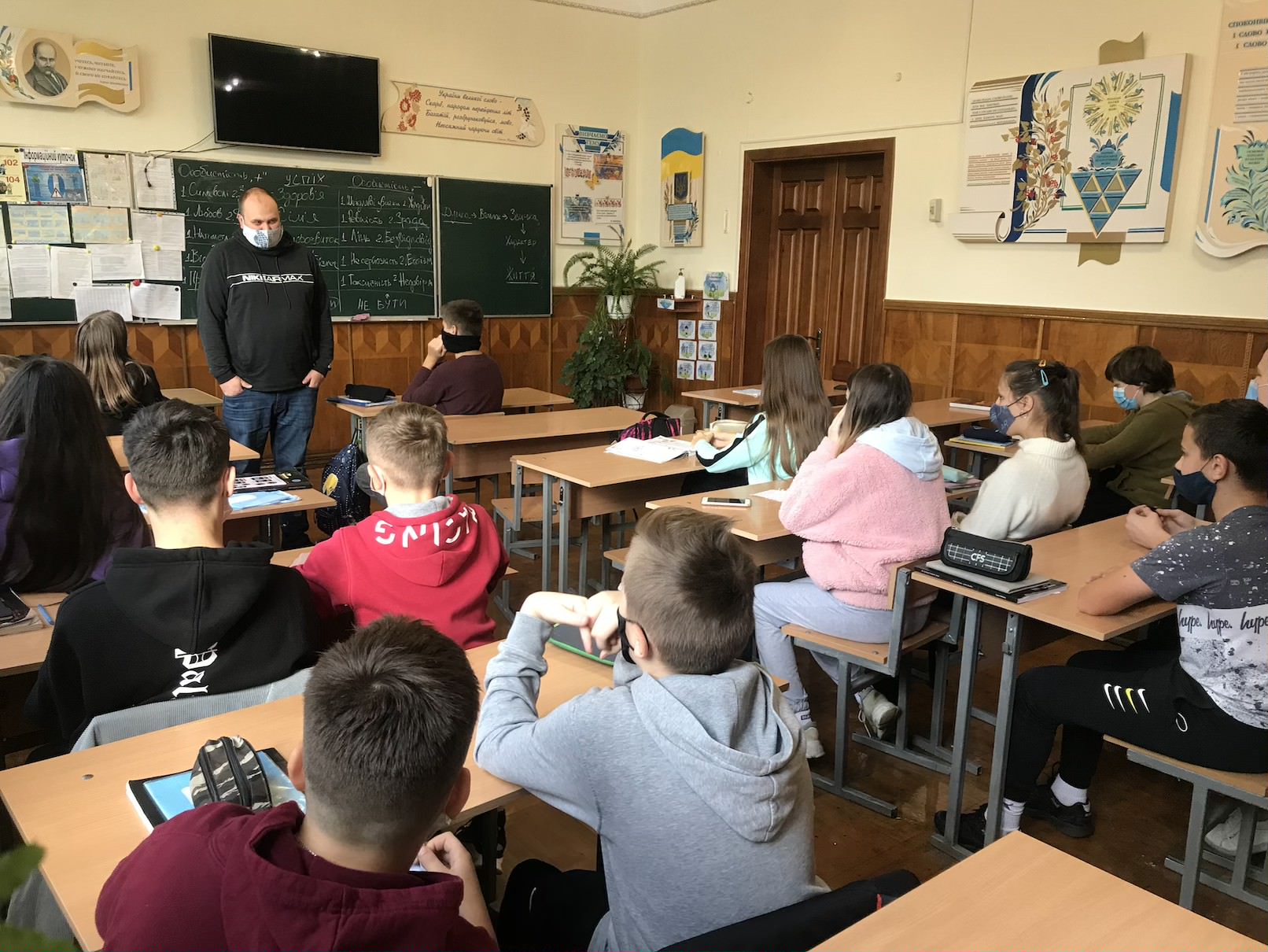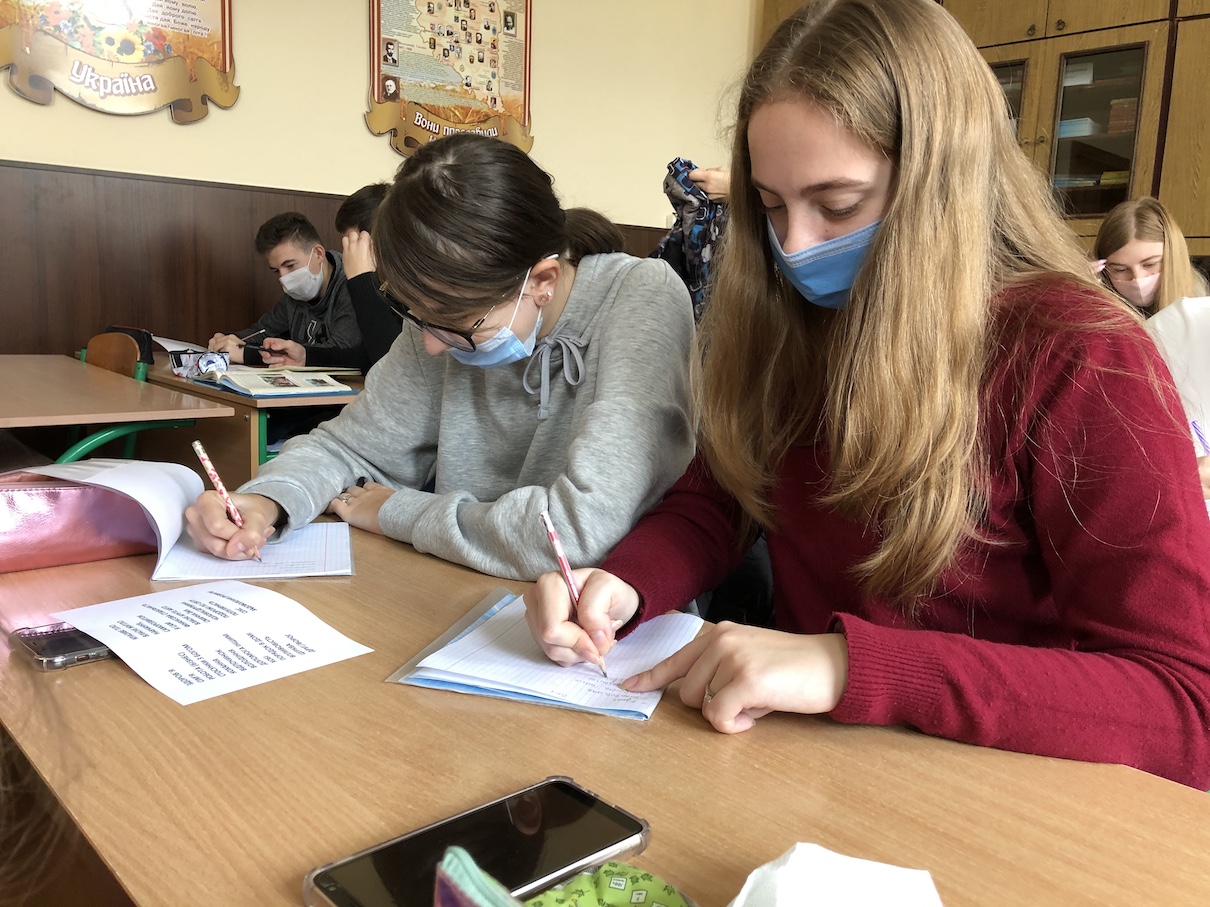 At the end of each lesson, we identified several creative ways to build a strong character as the foundation of a successful life.
Taking into account the positive feedback from students and class teachers, we agreed with the school management on further cooperation and conducting lessons and trainings for high school students.
We are grateful to God for the opportunity to positively influence the teenagers of our city.
Thank you all for your support and prayers in our common ministry!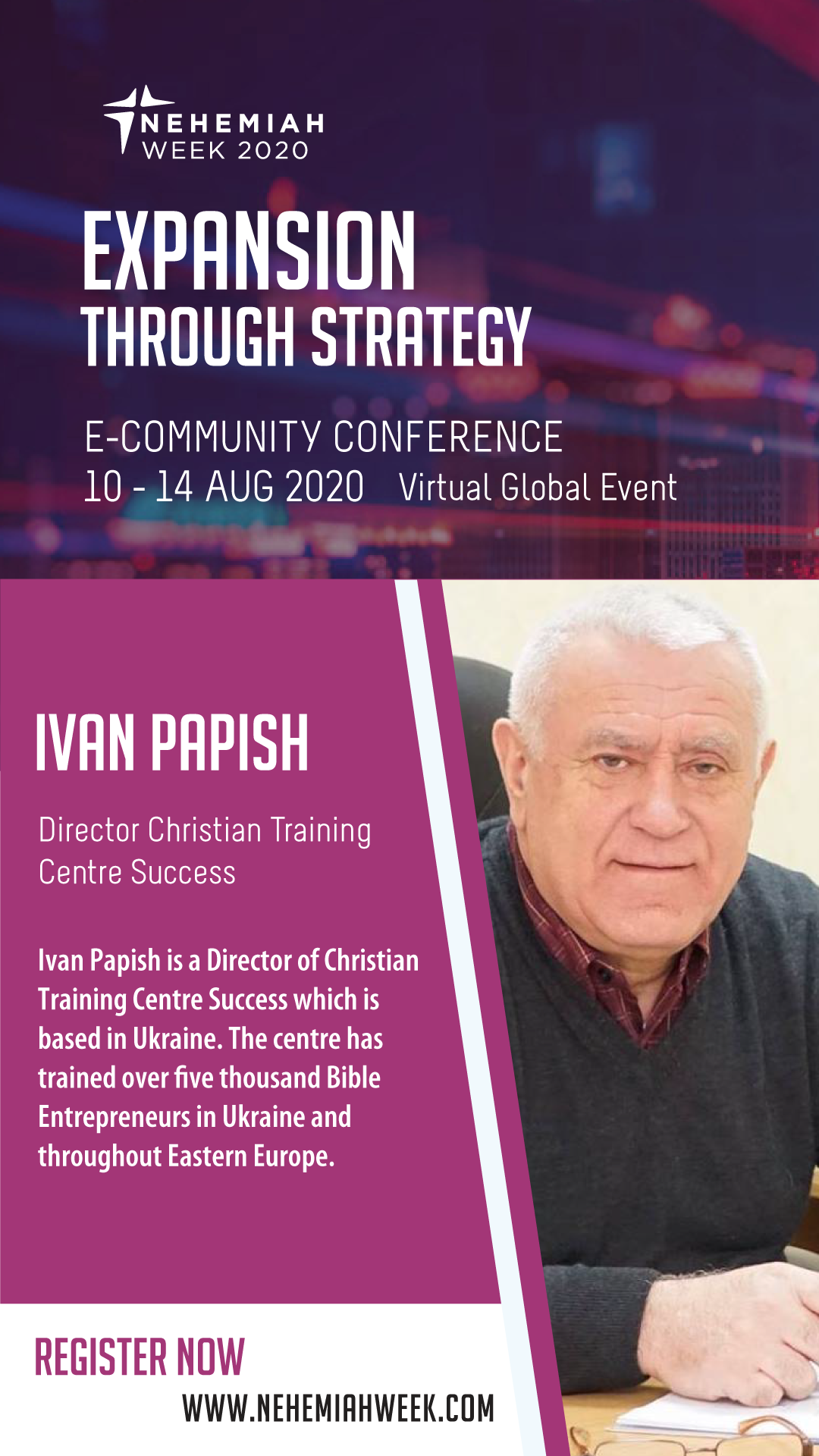 For the past 12 years, the Success Christian Training Center has held seminars each year on the Biblical Entrepreneurship program, which was developed and written by the Nehemiah Project International Ministries. You can learn more about the program at the link: https://center-uspikh.com.ua/en/main/business-by-the-bible/
Every year, the Nehemiah Project organizes an annual international conference in which the team of the Success Center takes an active part. Our center is the longest international partner of the Nehemiah Project. This year is no exception. Ivan Papish will take part as a speaker at one of the seminars at such a conference. This year, this event will take place through zoom, due to the epidemic of Kovid-19.
Ivan Papish will speak on the topic: "The importance connection and community"
You can learn more about the conference at this link: https://nehemiahecommunity.com/nehemiah-week-2020/
THE SCHOOL YEAR AT THE SUCCESS CENTER IS OVER!
We truly thank all the students, parents and caregivers for their active participation in the creative and interesting educational process! Our teachers did their best and implemented creative ideas to make learning exciting every time. Parents and caregivers did their best in helping children with home distance learning. And the students were extremely responsible and diligent! We have something to celebrate!
Therefore, from the first days of June, in compliance with all the requirements of quarantine, the Center held solemn meetings with students, which summed up the training. Each student received a wonderful gift, and the most diligent were able to buy a variety of other benefits for the "dollars" they received from teachers during training.
Here are some of the feedback from children and adults:
"For me, distance learning was a push to learn English better, and the Success Center helped a lot. Thanks to online lessons, it was possible to communicate with teachers and friends and dissipate a little from thoughts about quarantine. I was looking forward to these lessons, because here I received not only knowledge, but also the joy of communicating with people I had not seen for a long time. The lessons from The Greatest Journey were very creative, and the homework did not let you get bored during the isolation. In general, the Success Center made my quarantine much more interesting and distance learning more fun, and I want to thank all the teachers and people who helped organize all this."
Yurik Diana, 8th grade
"Thank you that we continued to study in quarantine. I tried to join all the lessons, because the tasks were really interesting and the level of the book was a bit more difficult?. I had to perform all the homeowrks in time, although before I would often forgot about them. I like the Success Center, for an interesting form of education, parties, original games and gifts???" – Prohira Katerina, 10th grade
"Glory to Jesus Christ! We truly thank all your team for training, education, attention and gifts for my children. Thank God and you for our success." – Gleza Alina, mother of two students of the Center
"Thank you for this school year spent together 🙂 It's really interesting to study and just communicate with you, you have a great team and great teachers 🙂 It's always nice to be in your team. Thank you for your ideas about various competitions, holidays, quizzes, etc., it is very memorable 🙂 God bless you! " – Shimkiv Sofia, 10th grade 
"I want to thank you for all the distance lessons you have had! I really liked that, despite the quarantine, you kept in touch and always explained new material to us. I noticed that my English level improved even during quarantine. And I want to thank you for for the opportunity to study at Success Center, because there I found many new friends and met you. I like the fact that I can always feel kindness and sincerity from teachers! Thank you very much! " – Stadnik Diana, 8th grade
We are convinced that the knowledge and emotions that each child filled their mind and heart during the 2019-2020 school year bring great results in their personal development and service to others. We wish everyone God's abundant blessings!
REMOTE TRAINING DURING THE QUARANTINE
Since March 16 to April 2020, the activities of the Success Center team were carried out remotely. We hold online meetings for children and adolescents: English lessons, "Life skills for youth", "The Greatest Journey", Superbook meetings, "Successful Youth" club. For this purpose we use the following web applications: Messenger, Viber, Zoom, Google Classroom, Padlet and others.
Teachers of the Ternopil Training Center record video lessons, after watching children complete creative homework. Although living communication will not replace anything, we do not want to lose our relationships with our students.
Back in March, we started classes with older groups, kids responded willingly and actively joined online classes.
No one thought that quarantine would be so long and we will miss our younger students. So we decided to try online lessons with them as well. And we succeeded! Parents helped children to join and now we have classes with younger students.
Children's emotions went over the top when they saw each other on the screen. Someone noticed the external changes, someone was just glad that at least remotely, but could meet friends.
Probably, for the first time, we, as teachers, were not distracted by the noise made by children – that noise simply testified to the life, communication and togetherness that is so lacking now. The parents were also thankful for the opportunity to study remotely.
To co-ordinate our work, an online team meeting is held daily, sharing news and plans for our ministry to children and adolescents, praying for the needs of our team, our children, the country, Orphan's Promise International Ministry.
In this way, we continue to maintain good relationships with our students, giving them attention and care, and giving God's love and peace in this difficult situation for the whole world.
We thank God that He opens different ways of working and serving even in time of quarantine!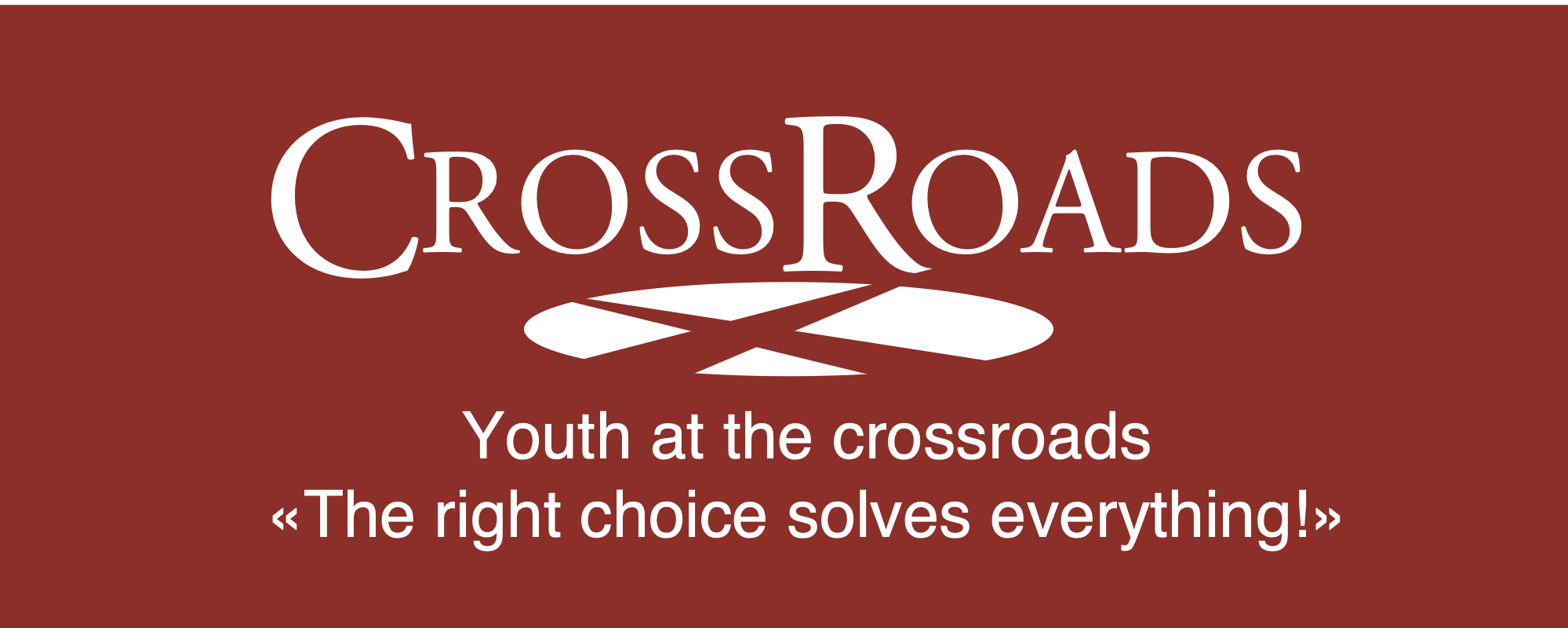 On February 18, 2020, a seminar according to the "Life at the Crossroads" curriculum for teachers of public schools was held in Ternopil. The speakers of the seminar were Vitaliy Ozerny and other representatives of NGO "Youth at the Crossroads". Employees of the Success Center participated in the seminar and received certificates which grands them right to teach this training program in the secondary schools of Ukraine.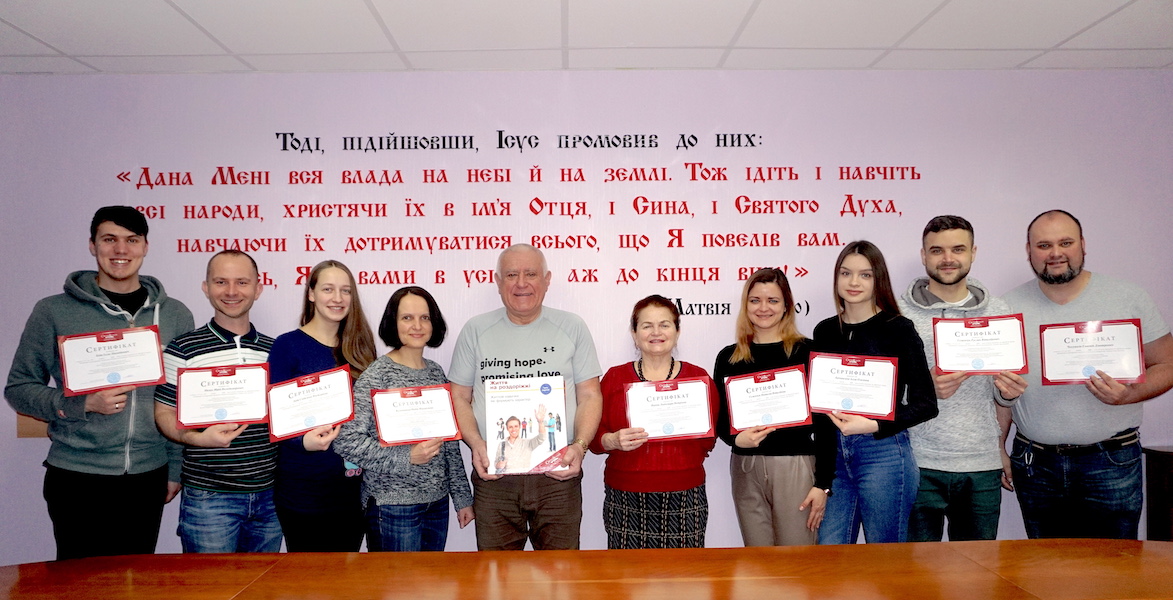 On February 19, 2020, the teachers of the Center together with the representatives of NGO "Youth at a Crossroads" participated in three lessons for high school students at the Ternopil Collegiate School named after Joseph Slipy. The lessons were taught according to the Life at the Crossroads program. Teens actively discussed the topics of the lessons, were open to the challenge of forming a character according to Christian values, taking the character of Jesus Christ, listening to, and openly embracing the Good News.
A LESSON ON THE TOPIC OF "PREPARING FOR FAMILY LIFE"
On February 20, 2020, in order to draw attention to the problems that can arise with in the educating a family, the Department of Family and Youth of the Ternopil Regional Administration together with the team of the Center "Success" and NGO "Family on the Rock" organized and conducted a lesson on the topic of "Preparing for family life" for students of 11th grade at school № 24. The purpose of the conversation was to familiarize teenagers with the essence and necessary preconditions of a strong family, as well as how to establish and maintain a positive atmosphere of relationships, and most importantly, how to preserve and to increase love – which is the most magical feeling that is underlying family relationships.
THE «BRAINSTORM» INTELLECTUAL GAME
On February 17, 2020, a unique event – the Brainstorm Intellectual Game – took place for the first time in the city of Ternopil for students from the 16 high schools.
The children had the opportunity to answer various intellectual questions and compete for prizes. All participants received many positive emotions and remained grateful for a wonderful time.
The event was organized by the Ternopil Training Center "Success" together with the "Nasnaga" City Student Parliament and the Center for Child and Youth Development. This isn't the first event which we've organized together.
We are grateful to God for this opportunity, together with other organizations, positively influence the lives of the young people of our city and to help them in comprehensive development.
CHRISTMAS AND NEW YEAR'S CELEBRATIONS
Christmas and New Year's celebrations were held in Ternopil Training Center and orphanage. All of the participants and guest, who came to the celebration were extremally happy and received the story of the birth of Jesus Christ with great joy. Children and teenagers received many positive impressions and gifts.
Pastor, musician and song writer Jonathan Markey came as a guest to the meeting of Successful Youth Club.
Pastor shared on the topic of "Exile and acceptance" bring lots of examples from Bible and modern life of people who were cast out or had to run from something. Pastor explained that because of the rejection and bedrail that Jesus had to go through while being on Earth, He gave a way to be accepted by our Heavenly Father. Teenagers were very attentive to the Gospel and cheerfully sang song with the musicians. We believe that God will continue to grow their faith and will give us opportunity to minister to young people.
Can you go to work in your pajamas? Yes, if it's a theme party.
The team of Ternopil Training Center decided to organize a pajama party for the American Thanksgiving Day celebration. Kids are always happy to attend our classes, so we wanted to create even more homey and cozy atmosphere for them. Everyone was in anticipation of the holiday. Because the dress code was home style clothing, children, parents and caregivers were carefully preparing for the day. Everyone wanted to look good.
Another task was to bring a treat for their training group. As teachers, we were a little worried about whether the kids would be responsible for bringing a treat to share, or will there be enough. We even had a thought to buy a box of cookies for just in case. However, very quickly our worries were gone, because all the students brought with them sweets, candies, cookies of different flavors. We were pleasantly impressed by the generosity of the children who hastened to share with their friends and teachers. Moreover, our students were attentive to the new students, and everyone wanted to treat them. We remember how one girl was late and got to celebrate not with her classmates, but with other children. They tried to share with her so she could feel comfortable.
In addition to entertainment, competitions and games, the culmination of the holiday was a joint prayer of gratitude for the abundance on our tables, for God's care for us, as well as for those who hungry and asked the Lord for mercy for them.
The party brought incredible impressions and memories to the lives of children and employees. It was a good time to watch the positive changes in students' lives and see the fruits of our work and ministry.
The greatest joy for teachers is when students are practically applying the learned truths on lessons. The home atmosphere made everyone feel like one big, friendly family! Thanks be to God for the opportunity to serve children!
Here are some of the feedbacks from parents:
"Thank you for bringing children's interest to lessons" – Yulia Homko
"We thank the staff of the Success Center for a good time. May God bless you all abundantly!" – Natalia Yakubivska
"We sincerely thank the staff of the Success Center for a good time. My daughter had a great time. She came home extremely happy!" – Halyna Yurik
"Thank you very much! Children were waiting for that day so much, and it brought them so much joy!" – Iryna Oleskiv
"Many thanks to all who work with children. It is not easy, it is a titanic work, it is an impression of a lifetime. Thank you for your patience, sacrifice, wisdom and love" – Lesya Boyko
"Are awesome, the format of the party was great. Children are happy and still are under impression" – Oksana Dutka
"Thank you for the party. Anton is very happy. Wish you all the best, more inspiration and Gods favor." – Lesya Hluh
"Thank you, dear teachers, for bringing more bright colors into the lives of children" – Halia Ivanciv
"Thank you all!!! May the Lord keep you and gives you much more for everything you do!!!"
 We thank God for opportunity to serve children!
After talking with adolescents of the group of risk we have saw that at times they can acts in a strange way because of stress or depression in their lives. Most of them do not know how to behave with people in such situations.
Seeing that particular need from November 29th to December 13th of 2019 teachers of the Success Center held a course of training S.T.A.R.S. (Suicide Training And Resiliency Strategies) for the participants of Successful Youth Club. The focus of the course is to teach young people how to deal with and keep yourself and friends from depression and suicide.
"Even if you do not need this now life is an interesting thing and prepare for us different kinds of situations. It is better to be ready for anything when it can change someone's life!" – these were the words of certified instructors of the S.T.A.R.S. course. "Sometime we face different situations. Many of them cause a big pressure and as a result they bring us to stress. There are people who can't face difficult times on their own and they need a support from close once."
The participants of the course have gone through the following lessons:
– The understanding of the situations that bring stress;
– Psychological resistance to suicide: the ability to overcome pain;
– Suicidal behavior;
– Secure dialogue;
– Internal dialogue.
During the last lesson, which name was "Change your mentality" all of the participants have chosen an important decision "I choose life!"
We believe that new knowledge and skills which were received by the participants over the course of trainings will help them to not only save their life but also save the lives of their friends.
November 08, 2019 at a meeting of the "Successful Youth club " it has become a real detective investigation!
In order to take part in the Quest, participants have teamed up with six teams of detective agencies. They were faced with the difficult task of unraveling the perpetrator, the motive, the place, the day and the instrument of crime.
All events took place at the "Memus Circus", and the suspects were circus actors. The alibis were so convincing that they could mislead even the most experienced detectives.
To solve all the circumstances of the crime, it took a lot of investigative skills.
The entire Quest script was built around the theme of Truth and Deception. The Centre's staff told participants the importance of distinguishing and analyzing information for accuracy and staying true to themselves. All participants were pleased and are looking forward to the next club meetings.
Congratulations to the winners of the Quest!
THE NEW SCHOOL YEAR AT CHRISTIAN CENTER SUCCESS HAS BEGUN!
The grand opening of the new school year took place on September 3ed of 2019. Children, parents and caregivers were looking forward to that day because for most of them the lessons at the Center is a true value.
The classrooms are waiting for children who will be gaining new knowledges and skills. Teachers and volunteers are ready to serve children this year by showing them love of God and care. They have a true desire to help kinds to unfold their skills not only through English but also teaching them practical skills for life according to Biblical Principles.
The classrooms are waiting for children who will be gaining new knowledges and skills. Teachers and volunteers are ready to serve children this year by showing them love of God and care. They have a true desire to help kinds to unfold their skills not only through English but also teaching them practical skills for life according to Biblical Principles.
The classrooms are waiting for children who will be gaining new knowledges and skills. Teachers and volunteers are ready to serve children this year by showing them love of God and care. They have a true desire to help kinds to unfold their skills not only through English but also teaching them practical skills for life according to Biblical Principles.
More than 200 children will be coming to the lessons of English, Life Skills and meetings of the Superbook, Greatest adventure and Life in our hands in 2019-2020 school years.
We wish children God's blessings in their studies and parents and caregivers to have endurance and mutual understanding for the success of our common cause!
CHILDREN'S CAMP "LISOVYI" 
Center "Success" team worked during July and August 2019 at social children's camp "Lisovyi" (village Skomorokhy, Ternopil region). Every summer since 2011 camp ministry is the unique opportunity to influence on children and teenagers from large and needy families who are in hard living conditions. Also we work with orphans and children who belong to risk group.
Trainings and lessons on program "Lessons of self-determination for youth" and "Revival" are the basic part of our work in camp. Dwelling on topics "My life values", "Character formation", "How to get on well with parents", "Premarital relationships" we tried to show to the teenagers alternative, biblical view of understanding yourself and others. These topics were actual and necessary for the majority of teens. "Nobody talked with us about this before", that was the most frequent reaction of children after the lessons.
Trainings, lessons, quests, interactive games for teambuilding, cartoon "Superbook" and watching educating films – using these methods we tried to open children's hearts, their thinking changed and our relations became friendlier.
Very often behind the mask of rejection and pretended atheism, we could see injured children's souls which need parental love, support and understanding. Speaking with children about biblical methods of life, workers of the Center always showed truthful meaning of Gospel of Jesus Christ , giving the children God's love.
Seeing the sincerity and responsibility of our team, teens started to open their hearts talking about their family problems, their own lives, about the reasons of their worries, fears and uncertainty. Due to individual counseling, studying and prayers the children received the answers to their questions and hope  that  with God's help they could cope with different challenges. 
Here are some of the children's responses:
"Thank you for the informative trainings, you know how to inspire people. I made the decision to appreciate everything I have, help others, fight my fears. In the future, I want to make the same speeches in hospitals and orphanages so that children understand that everything will work out okay, they just need to believe!"
(Stepanova Dasha, Poltava)
"I liked your interesting and creative games, important topics which were explained in the available language. I made the decision to establish relationship with my mother and learn to resolve conflicts constructively"
(Moroz Yaroslava, Ternopil)
"Personally for me, the most interesting training was the training on parent-child relationships. When I get home, I will definitely talk to my parents and we will try to spend more time together"
(Gaydamashko Maria, Shumsk)
"I realized that we have little time, and we always need to value our parents, pay attention to them, and appreciate meeting with them more than meeting our friends. I do not need to seek only physical contact with girls, I do not need to seek pleasure from many girls, and it is better not to rush, but wait for the one, the best. I became more aware of this"
(Horoshynskyi Artem, Poltava)
"First of all, I would like to thank you for the support you have given me during personal conversation with you, as well as for the trainings, that have changed my worldview and communication with loved ones. I realized that you should not be afraid to say what you think and feel"
(Yashchuk Tanya, Buchach)
"Thank you for valuable information that will come in handy for me in both material and moral aspects of life. Thanks for your time and attention spent on us. You are making us to think over our life principles and change them for better, and this is the best thing you can receive during training."
(Oleksiyenko Sofia, Ternopil).
We are grateful to God for the opportunity to serve children and adolescents and believe that the seeds, that were sown in the hearts of the children, will bear good fruit for their future life with God!
DAY CAMPS CALLED "IS GOD'S CHOICE – MY CHOICE?"
The team of the Center have held two day camps called "Is God's choice – my choice?" in Ternopil for children that come to the lessons at the Center in June 11th through 15th and in Kremenents for children from large, low-income families in June 18th through 22.
That kids were able to be active in games and quests, and at the Bible lessons and the Superbook cartoons they were able to hear about God's will for their lives. Children receives cheerfully the good news of Jesus Christ and in prayer would trust their lives to God. Parents are truly thankful to the team as they see positive change.
A NATIONAL BUSINESS PLAN COMPETITION
There was held a national business plan competition among the participants of Business by the Bible seminar in Ternopil on June 11th. 6 participants from various cities have presented their plans. The winner of the competition is Tetiana Vasenda with the business plan "ART-HOUSE the opening of the art studio". Tetiana have won the opportunity to present her plan at the International Business Plan Competition during Nehemiah Week 2019 in Washington, DC.
Here is what Tetiana said after the competition:
"All glory belongs of our Lord! Because he is my only victory! Four month of intense preparations and lots of efforts and today I have a first place at the Ukrainian National Business Plan competition which is built on the principles of the Bible in Success Center".
The principles of Biblical Entrepreneurship bring changes into the lives of people that came to the seminar. And the business plan competition is a good start for the business for the glory of God and positive impact over the people around.
The DadCamp which took place in Success Center in May of 2019 became a unique time of bonding between fathers and children.
The overall goal of the camp was to help every man to become stronger father, to build stronger families. 
More than 80 dads participated in a DadCamp. All of them came with their son or daughter. Starting with the first moments of the camp all the participants were intrigued, since it is the first time something is happening in the Center in such format, when there is a father and a child.
"It is time to change the history! We believe in the world where every family has a great Dad! Our mission is to build stronger fathers who build stronger families around the globe. We believe there is no better way to restore our world to the way God intended then by reaching and restoring the hearts of men" – those were the words to all of the participants of the founder and director if international organization DadCamp, Jason Braun. Jason and his three other team mates from USA held a camp.
Those were deep and insightful talks with dads, interesting and fun games for children, one on one time with father and a child and creation of gifts to one another – all that created some strong memories of the DadCamp.
Here are some the father's feedbacks.
Rohachuk Oleg
"It was truly a great time which will affect the lives of my family! Everything was simple but at the same time to the point, especially that "father cannot be replaced". I've decided to start joined prayers with my children for their needs. Thank you for everything! Wish you all the strengths and zeal to continue!"
Honskiy Roman
"Thank you for meaningful information, which helped me to open my eyes to the problems of father and child. After the seminar I will make a closer look on my mistakes. To all of the organizers I wish good health, inspiration in their hard work"
Kurdybaha Pavlo
"I liked it very much. May the Lord bless you! I make a decision to talk more with my kids, to pray with them and to read Bible."
Simchuk Volodymyr
"I was very surprised about the meeting and the topics that was talked about in the lectures of the DadCamp. I am sure that we need to meet and talk about those problems more and then find way to resolve them together. I want to cry because of happiness when I see you work so spiritually in the DadCamp! May the Lord bless you and give you more strengths!"
Supinskiy Taras
"I've liked the format of the meeting and the materials, that was given to us the team of teachers. The seminar helped me to see leadership in the family in a new way and it helped me to write a vision for my family"
Dmytryk Maxim
"Thank you very much for the great time spent with you and with my children. Everything went awesome. I liked open and sincere training, conversations and time together. I've made a decision to continue to change, become a better father and start a movement of the fatherhood in my region and to become encouragement for my children and a better husband for my wife."
Sereda Dmitry
"It was a truly an awesome time with my children. The team was very good and professional and they helped me to make a decision to get to know my children better and become closer to them. I thank God for your work."
Tsebak Volodymyr
"Everything was so cool! I will everything the me and my son would understand each other better"
Kulich Andrii
"I was able to see in myself what I have not seen before as a father. Thankful to God and the team of the organizers and speakers from America"
Vadnyk Oleksandr
"Thank you for your great work. I very liked your training. I think after today I will change my attitude to my family and children!"
Prohyra Rostyslav
"Thank you very much for DadCamp. It was so impressive. I liked that I was able to make a gift to my child with my own hands. I am ready to participate, learn and change myself and change world around me. I am ready to help of you need me to."
We truly thank God for the opportunity to influence parents and help them to build strong families for the Glory of God.
«Christ is risen!» " He is risen indeed!"  that was the greeting which sounded in the classrooms of the Ternopil Training Center in April of 2019. All of the age groups had their time of Easter celebration at the Center. The parents and caregivers gladly received a good news about the Resurrection of Jesus Christ from their children as they were singing and performing in dramas in English. By the end of the celebration all of the children received gifts.
Here is some of the feedbacks of the guests of the celebration:
"Thank you for the celebration it was a great time and wonderful gifts" (Oksana Didushyn, mother)
"Thank you very much for creative and interesting lessons and celebration! Kids always run to the class!" (Oleksandr Maksimov, father)
We truly thank God for unique opportunity to serve children and adults! May Christ Rise in our hearts!
THE STORY OF THE DEVELOPMENT OF ANDRII SOLODOVNYK BUSINESS. ANDRII IS THE WINNER OF THE INTERNATIONAL BUSINESS PLAN COMPETITION OF BIBLICAL ENTREPRENEURSHIP COURSE IN 2018.
After graduating school Andrii have studied carving in college. After graduating college, he got married and started to work at a door factory. There he worked for year and a half and was able to see deficiency in production, the bad addition of the employer towards employees which led to bad quality of work. Later he started working on making wooden iconostasis which led him to learn more and become more creative. While he was working there the Lord showed him that is was Him who gave Andrii the talent and a desire to create. Andrii's wife had an experience working with children development reminded him about a dream that he had – to make a production of wooden development toys. The bad experience which Andrii had along with the desire to implement his dream led him to start his own business. Together with his wife he moved to a small city where he was born named Zbarazh with personal savings of $100 USD. There in his garage he has started to produce small and simple toys and Christmas decorations mad of wood.
Andrii came to Biblical Entrepreneurship seminar for the first time in 2015. The information that he has heard helped him to change his view of business and helped him to develop his business according to Biblical principles. The seminar helped him to make more practical steps to develop more products. He has sated to sell his product through internet and hired new employees.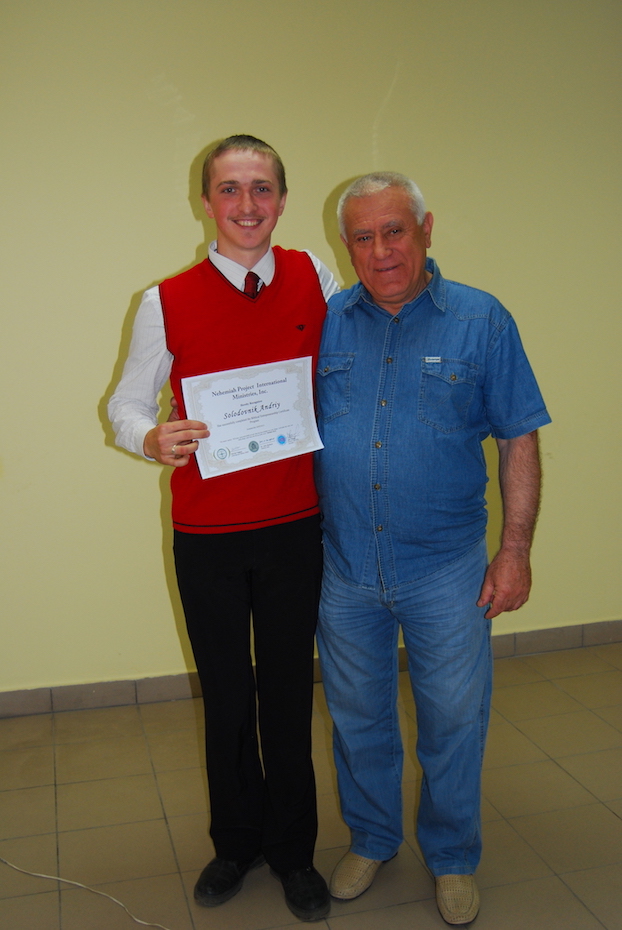 In 2017 he decided to take seminar one more time to write business plan about development and expansion of his business. He has presented his business plan on Ukrainian national business plan competition in November of 2017 and became the 1st place winner. As a result, he was invited to present his business plan on the international business plan competition in 2018 in Orlando, Florida, USA. In September of 2018 Andrii have presented his plan on International competition where he took the first place. In his presentation he has showed the activity of his business at that point and showed his projections for the end of the year and specially for the winter period, the most profitable period for his business. In such way he has projected certain amount of profit by the end of the year. The purpose of the plan was business development using the bank credit from Ukrainian bank for 2 years under 19% annually. He wanted to use those monies to hire two new employees and to buy new equipment.
After Andrii returned home he has started actively implement his business plan to live. As it was written in his plan the winter period was the most profitable. However, if Andrii has made calculations about his estimated profit the actual profit for a lot more than he expected, which excited Andriis expectations. Since the sales was so big, Andrii realized that now he does not the bank credit under such big interest rate. He made enough money to not use credit. Andrii have already purchased needed equipment and now looking for new bigger facility for expansion of his business and to hire new employees. Andrii is continuing to conduct lessons for orphans, half orphans, children from large or low-income families.
Talking to Andrii he expressed his sincere gratitude to the team of the Center for investing in him right biblical perspective of the business. Only because of knowledge that he has received and because the decisions he made he was able to achieve such results.
Recently we have conducted Biblical Entrepreneurship, Planning seminar for 30 people and we invited Andrii to present his business plan. As we have talked about his business plan people were even more motivated to write their business-plans.  
TO VISIT ANDRII AND OKSANA WEB STORE YOU PRESS THE PICTURE BELOW:
Practical training course Successful Entrepreneurship
which is based on the Biblical Principles
Practical training course Successful Entrepreneurship which is based on the Biblical Principles was held in Ternopil Success Center on February 14-16 of 2019. Certified teachers Ivan Papish, Yuriy Mamus and Oleg Karpyk has taught the course for 13 people who are both new in business and also people that have businesses and looking into expending it.
This time we have changed the format of the seminar and prepared even more practical tools and exercises and teachers gave more attention on writing the presentational business plan.
We also have invited a special guest – Andrii Solodovnyk the winner of the International Business Plan Competition in 2018. He used his business plan to share on practical tools about business plan and how to develop and present it. Andrii have shared principles that he used as he was writing his plan and shared what helped him to take the first place on the competition in the USA.
The participants learned that in order to achieve success you need to build your business using the eternal Biblical Principles. And when they will receive needed skills and knowledge they will be able to start a business and lead successful business in spite of difficult situation in the country!
Everyone who will complete his or her business plan will be able to present it on Ukrainian National Business Plan competition which will take place on May 25thof 2019 in Ternopil. And the winner of that competition will be representing Ukraine on International Business Plan competition in Washington, DC in August of 2019.
We wish success to all of the competitors and believe that through their entrepreneurship activity the need of the customers will be satisfied and God will be glorified!