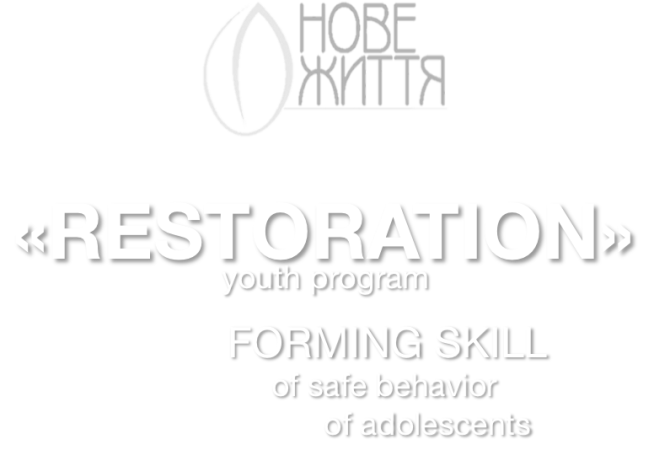 As we know, the first human need is to preserve the life and health, and the absence of disease, physical and mental illnesses is a prerequisite for a happy life. Only a healthy person is able to effectively learn, work, fully relax, and have a strong and healthy family.
Although in modern society it is catastrophically widespread drug addiction, alcoholism, smoking, common premarital sexual relations. And because of this young people are found in the zone of risk, and the nation as a whole – on the edge of survival.
Therefore it is important to carry out preventive work among teenagers in the period of formation of their life values. Adults need to understand and help solve the difficult problems which are in the lives of children and to help them to develop personal responsibility for their own actions.
Youth Program "Restoration" examines the causes and solutions to the problems that caused the crisis in teenage environment.
THE AUTHOR OF THE PROGRAM IS 
UKRAINIAN NATIONAL CULTURAL AND EDUCATIONAL CENTER "NEW LIFE" 
The work book #1
Topic #1. The art of communication;
Topic #2. Risky behavior;
Topic #3. What destroys personality;
Topic #4. Friendship;
Topic #5. The way to a true love;
Topic #6. Marriage;
Topic #7; The negative consequences of premarital sex;
Topic #8. The life is the hightst social value;
Topic #9. What do you know about HIV/AIDS?
The work book #2
Topic #1. Why do you need to know your HIV status?
Topic #2. Sexually transmitted infections;
Topic #3. There is no "safe" sexual relationships;
Topic #4. Mass media;
Topic #5. Advertisement "pros" and "cons";
Topic #6. Evel-speaking;
Topic # 7. Faithfulness;
Topic #8. Responsibility;
Topic #9. Character formation;
Topic #10. Meaningful life: "Goals";
Topic #11. Meaningful life: "Building future";
Topic #12. True love waits;
Topic #13. Interests, love, passion;
Topic #14. Marriage relationships;
Topic#15. Computer games.